BANGKOK RETAIL
Tom Collins Women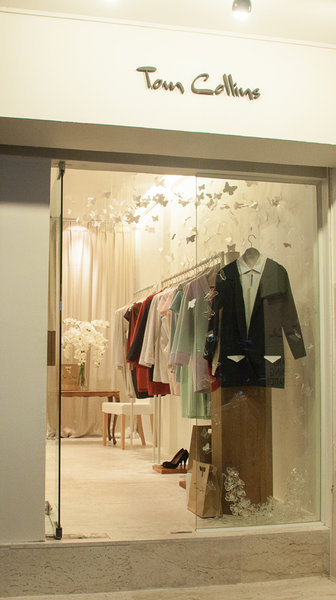 Buzz: With the idea of doing women's daywear in more unconventional fabrics like spandex, three friends specializing in design, graphics and marketing have just set up a new shop in Siam Square.
Decor: Warm, clean and minimal with orange lighting, beige walls and beige clothing racks. Though quite small, there's plenty of space for the wide array of products.
Goods: Spandex cotton tops, dresses and jackets made from textiles imported from Japan. The focus is on minimal design that is comfortable to wear. Think pastel-tone cropped tops, stretchable blazers and jackets and air-brushed bodycon (tight fitting) dresses. We particularly like the smart yet casual look of the long bodycon dress (B1,590) and mini suit (B3,790) with contrasting pockets, suitable both as street and work wear. Tops start from B790, dresses from B1,700 and jackets from B3,790. We've heard that the shop is planning to launch a new collection of knit-wear soon, too.
Why you'll be back: For the air-brushed pieces that are done pretty nicely, and the light and comfortable fabrics used, perfect for Bangkok's weather. Nutthachai Bunluthangthum